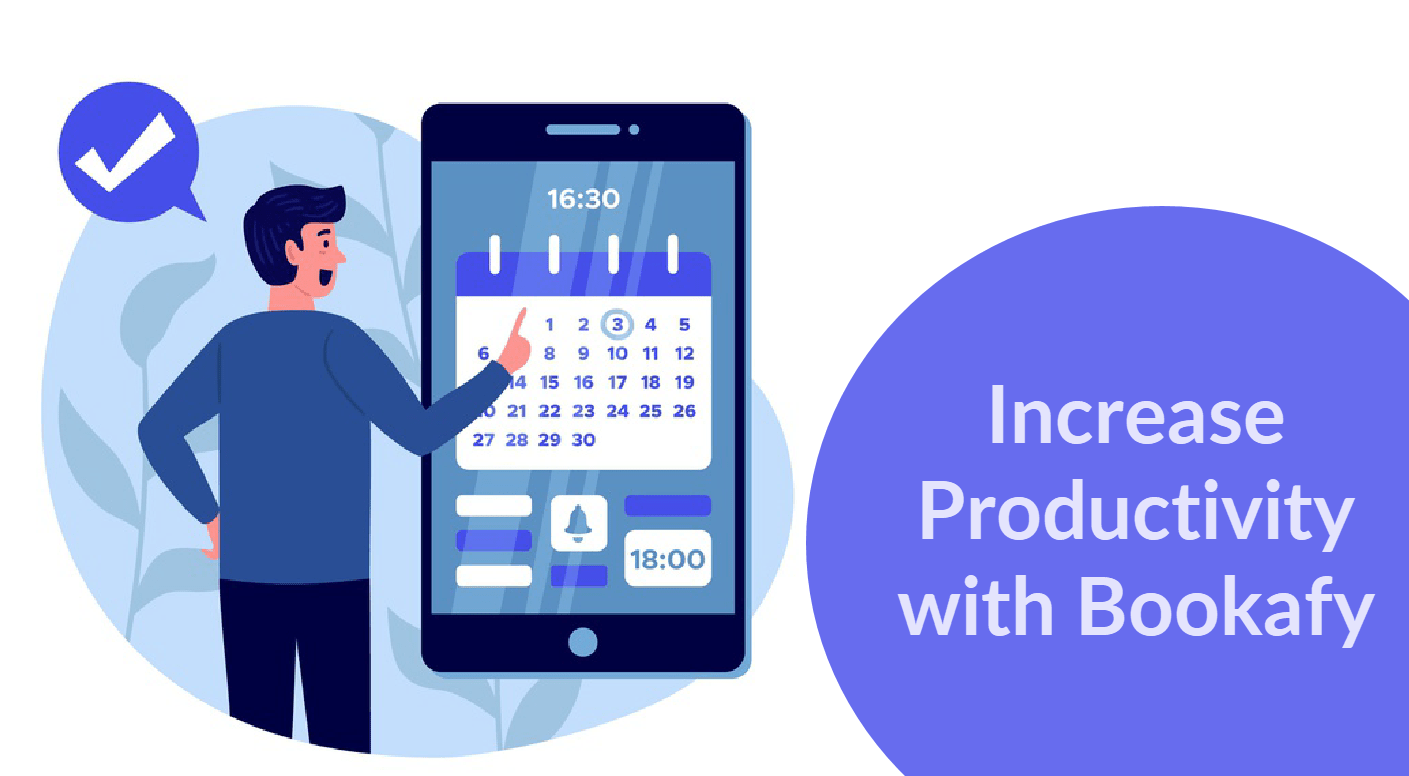 How To Use Bookafy To Increase Productivity
A good business owner should understand how productivity is inextricably linked with planning. The two go together to create a cohesive whole that then forms the basis of everything else that happens within the business. Having an app like Bookafy to help increase the overall productivity of your business is highly beneficial, and since it offers a much lower subscription rate than its rivals, it's well worth looking into.
To help you make the right decision for your business so that you can become a more productive, organized company, read on to discover just how you can use Bookafy to increase productivity. There are many different ways it can help.
Set Goals
When using a scheduling app such as Bookafy, it's much easier to set and reach goals for your team. It's easy to think about how you might want to improve the business, and it's a straightforward thing to come up with goals that will help you achieve that. But giving your team the information about those goals and ensuring that they work towards them isn't such an easy task. Unless, of course, you're using Bookafy. 
When you schedule work for each team member, you can ensure that they are working on whichever goals it is you have set. By breaking down the goals into manageable chunks of work and then utilizing Bookafy's systems to allocate various elements to each employee, those goals will not only be realized quickly but to a high standard as well. 
If you don't set goals that your employees can easily achieve, they become almost insurmountable, and no one attempts them. In this case, your business will go nowhere. By breaking them down and sharing them through the app, no one will be overwhelmed, and each element can come together as a whole, boosting your business hugely in the process.
You Can Deal With Unexpected Problems
No business will run smoothly one hundred percent of the time, and unexpected problems and challenges are par for the course. Without a strategy, business owners will spend much of their time dealing with these problems. No matter how quickly you react to a situation that has gone wrong or gotten out of control, the facts are the facts; the issue has already taken place. 
When you use Bookafy to increase your productivity, you can also use it to help your entire business become more proactive rather than reactive. This means that, rather than waiting for a problem to occur and then dealing with it, your team will be aware of how to prevent the problems from happening in the first place. This can be done by being adequately organized and being able to see potential issues in advance because everything is well ordered and everyone has their specific assigned tasks. Instead of looking at the business as a whole, the smaller elements that can be problematic can be dealt with in more detail, and thus problems are more easily avoided.
In other words, when you are well organized, which is what Bookafy will enable you to be, you can predict any problems that might come up and have plans in place to prevent them before they become an issue.
Everyone Working Together
Something that can make businesses a lot less productive is when the different team members simply aren't on the same page. The issue is that if everyone is working on their own schedule, towards their own goals, and without understanding the overall concept of what you're trying to build, they might be working in opposite directions. Progress will be slow, if it happens at all, and productivity will fall because no one can see any gains being made. If nothing seems to be going anywhere, morale will drop, and productivity will also go along with it.
Bookafy's scheduling app means that everyone will be working on the same page, with well-defined individual and team roles and goals that are clear and simple to understand. From the interns to the CEO, every person within the business will know exactly what their role is and what is expected of them. This means there is much less stress involved for everyone; they just need to concentrate on what they have been asked to do, knowing that it fits together to create a progressive, productive whole. No one's work will undo anyone else's, and no one will encroach on someone else's territory. Try using the app to schedule everyone's work.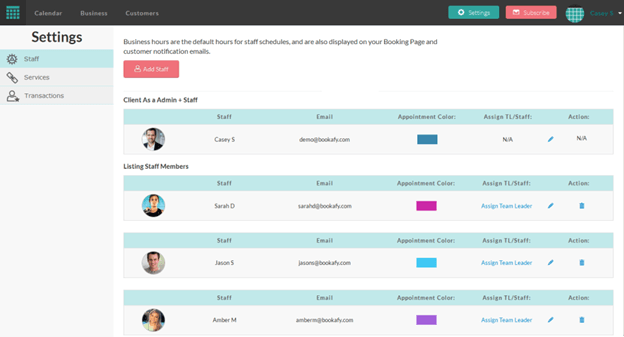 Easy To Track Progress
When the goals and tasks are all put into Bookafy and everyone is aware of what they are being asked to do, you can easily track the team's progress. This will help you determine the levels of productivity within the business and will show you which teams or individuals need more encouragement or training and which can take on additional roles since they are progressing much faster. 
No matter what reason you might have for tracking your employees' progress, Bookafy will give you the tools you need to do it. Use the information you gain in the right way, and you can increase productivity in a big way.
Save Time
How much more productive would you and your team be if you didn't have to continually plan the day ahead? How much more would you get done if this planning was carried out well in advance but was still flexible enough for necessary changes to be made quickly and easily? The answer is that everyone would be much more productive and more would be accomplished. And what would the outcome of this be? You would save time.
Time in business is a precious commodity, and if you can save time on any specific project, that means you can allocate more time to another project and start ahead of schedule. When you plan ahead using Bookafy and save time in the process, you give your business the opportunity to move forward more quickly with your work in general and productivity is sure to increase. The longer a project takes, the less work you'll get done overall. The less time a project takes, the more work you can do as a business. It's that simple, and this is something that Bookafy's scheduling software can help you to achieve. 
Fewer Errors
Mistakes will always happen when humans are involved. However, the fewer mistakes you can expect in your business, the more productive things will be. After all, every mistake takes time to rectify, and that means time is taken away from the current work, putting you behind and reducing productivity.
The more mistakes you make, the more time is wasted fixing those errors. Plus, your reputation as an excellent business to work with will be destroyed; lots of mistakes are not good for business.
If you can organize your work – and business as a whole – using a scheduling app like Bookafy, there will be fewer mistakes made. Nothing will be forgotten, nothing will be rushed because enough time is allocated. You can even ensure there is time scheduled for training, keeping everyone entirely up to date with the way your business runs and the work they have to do. Being more organized means you can prepare for your work in advance, and this means fewer mistakes. 
Scheduling Minimizes Distractions
When everyone worked together in an office, distractions happened but were usually limited to a co-worker asking a question or a fire alarm going off. Today, with many people working from home, distractions are much more likely. Anything from the doorbell ringing to the sun shining to the lure of social media can potentially cause employees to be less productive than they should be. It's not necessarily their fault; it's simply harder (in many cases) to completely eliminate distractions at home.
Bookafy can help make this much less of an issue. Using the app to schedule everyone's work in advance makes it easy to block out the time needed for the task. Add to this the fact that you can monitor the employee's productivity, and that should be incentive enough to do the work in the time allocated.
Blocking out time is a well-known and popular way to increase productivity, and, because everyone knows they have to work for a specific amount of time, distractions can be more easily managed.
Meetings Can Be More Easily Arranged
When everyone is working away and has deadlines to hit, trying to schedule a meeting isn't going to be easy. If that meeting is all about how to increase productivity, or will increase productivity due to its outcome, it is clearly important. So what can be done? You'll want everyone to attend, and yet everyone is busy. 
When your team's work is scheduled using Bookafy, these meetings will be much easier to organize. You'll be able to see immediately when those you need to attend the meeting are free, and you can schedule it into the platform. Bookafy can even be set to send out reminder texts or Zoom links, so there is no excuse for attendees not to come to the meeting.
There are several reasons why this will improve productivity. The first is that, as we've said, if the meeting is about something that is going to help when it comes to productivity in some way, the sooner people know about it, the sooner it can be incorporated into the business. Secondly, rather than having to call a number of different meetings to fit in with the various schedules that are involved, you can save time and effort by finding a time that suits everyone. You can therefore increase your own productivity too. 
Fewer Questions
As a business owner, you will ideally want to delegate tasks to the relevant individuals or departments and not have to think about those tasks again until they are completed. This is, after all, the most productive way to work. You are able to get on with your own tasks, safe in the knowledge that your team is working hard. This is not always what happens, however. Sometimes tasks need to be explained more thoroughly, or there are additional questions that have to be asked.
When using Bookafy, you can not only schedule the work but include as many notes as you need to ensure that the tasks can more easily be completed without the need to keep coming back to you for more information. By using Bookafy, you can allow your team much more autonomy, which improves their productivity and yours.
Manage Employee Attendance Effectively
Something that can cause many problems when it comes to productivity is employee attendance. When you have a proper schedule in place, created and maintained by accurate and simple to use scheduling software like Bookafy, it's easy to see where the issues might lie in this regard. You'll be able to spot if any employees in particular are often late or call in sick, and if there appears to be a pattern, you can deal with it in the way you see fit.
Once the issue is seen, management can take charge of the situation and discuss the problem with the employee. There could be a legitimate reason why this is happening, but no matter what the reason, talking it through and coming up with a way to solve it is crucial. In this way, productivity will improve not just for the employee in question but also for any team they may work in. Remember, lack of productivity from one person can affect the entire workforce.
Bookafy Can Improve Business Productivity
There are many scheduling apps available, but none that are as cost-effective and user-friendly as Bookafy. Add to this the fact that there are both desktop and smartphone versions available and that there is unrivaled customer service on hand whenever you need it, and it's clear that Bookafy can fulfill all your scheduling requirements.
With this in mind, it makes sense to use Bookafy to help with your scheduling needs and to increase productivity throughout your business. Find out more on our website today.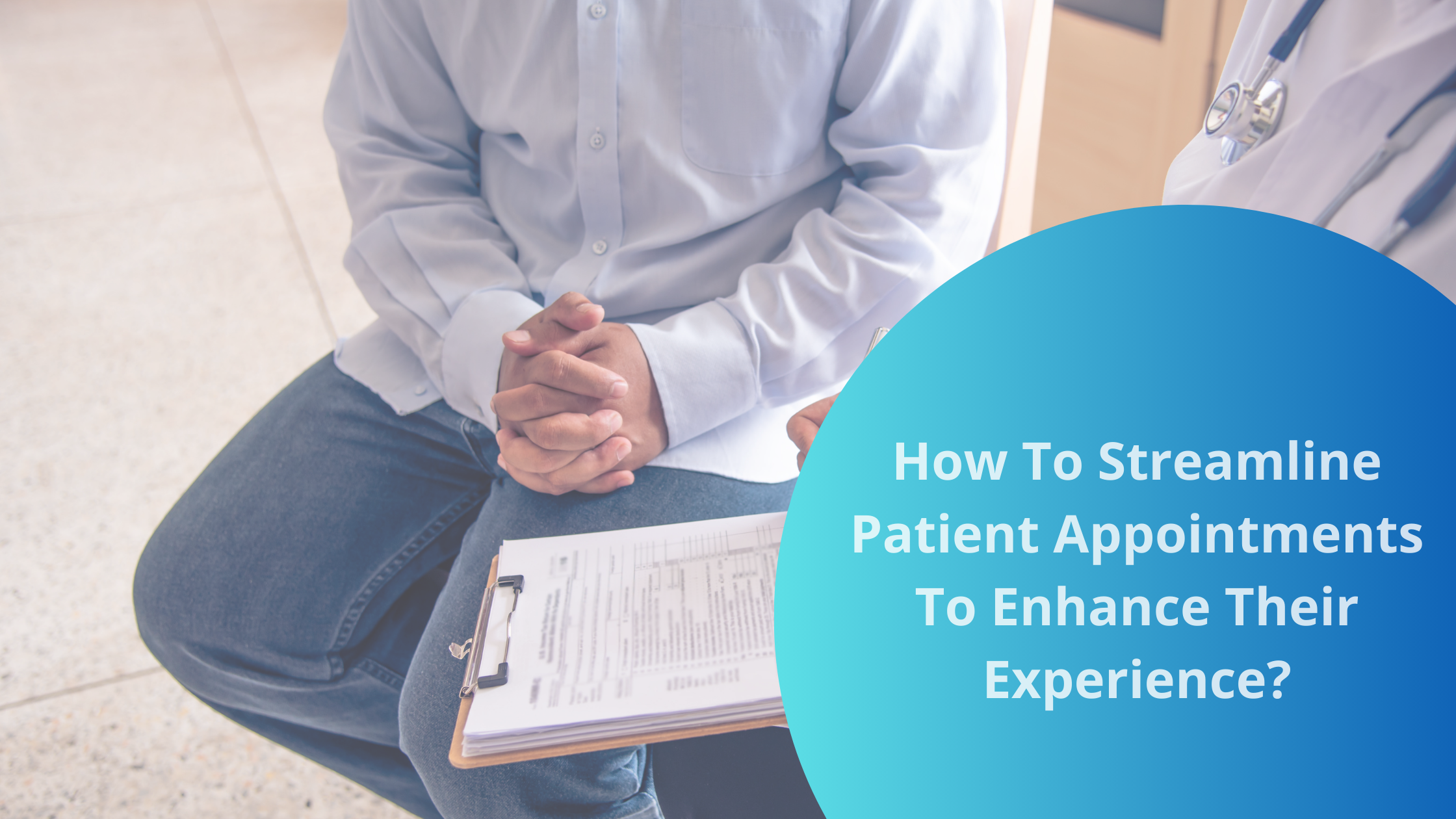 Got a brilliant SaaS product idea? You're already on the path to creating a potentially ground-breaking solution! But what's next? In this blog post, we'll guide you through the essential steps of transforming your SaaS product idea into a reality. So, fasten your seat belts as we navigate the exciting journey of SaaS product development together!
Read More »
Start booking appointments
with Bookafy for free!
Sign up today for a free Trial of Bookafy Pro!