In this post we are going to share 8 Video Conferencing Apps that we have tried ourselves, and guess what? Many are free!
There are many options for free video conferencing apps; however, not all are designed or suited for collaboration in the workplace. Here's our shortlist of the best free video conferencing apps, where they shine and where they fall short.
1. UberConference
I'm personally a big fan of this product. I've been using it off and on for years, and it's really my favorite in the market. It doesnt work for every situation… so sometimes we use Zoom in our office, but I am still a huge fan of this product, especially if its a 1 person operation. If you are an individual salesperson (even in a big company) or a solo-entrepreneur, this is a great product. 
Advantages: No downloads or installs required, unlimited meeting duration, built-in screen sharing, HD-quality video, enterprise-grade reliability and security by default. Free up to 50 people on a call at once. Boom. 
Considerations: Not as many integrations as other products. Above 50 participants at one time require a paid account. Though very reasonably priced! 
The free video chat app from Google is a great example of a consumer-grade app that has been accepted into the business world. Google shops operating out of Google mail and Google calendaring will enjoy the native integrations for Google Hangouts.
Advantages: Integrates with Gmail™ and Google Calendar™, works on Chrome™, connect up to 10 participants
Considerations: Requires a plug-in, doesn't support dual stream video and content, some user complaints about video quality and reliability

3. Skype, Skype for Business and Microsoft Teams
The collaboration suite from Microsoft is divided between consumer-grade and enterprise-grade tools. For truly free video conferencing, downloading the Microsoft Skype client gives users access to 10-way calling and a directory that can be populated by individual users. Moving up into the enterprise, Microsoft Teams can be packaged together with an Office365 license. It's worth noting that teams using Microsoft Outlook™ and Microsoft Teams can access the Lifesize for Microsoft integration, which adds Lifesize video capabilities into the Outlook and Teams interface.
Advantages: Familiar user experience for anyone who uses Skype to connect with family members, available for up to 10-way calling, integrations with premium video conferencing vendors
Considerations: Requires a downloadable application, may be viewed as unprofessional, advanced features only available for premium subscription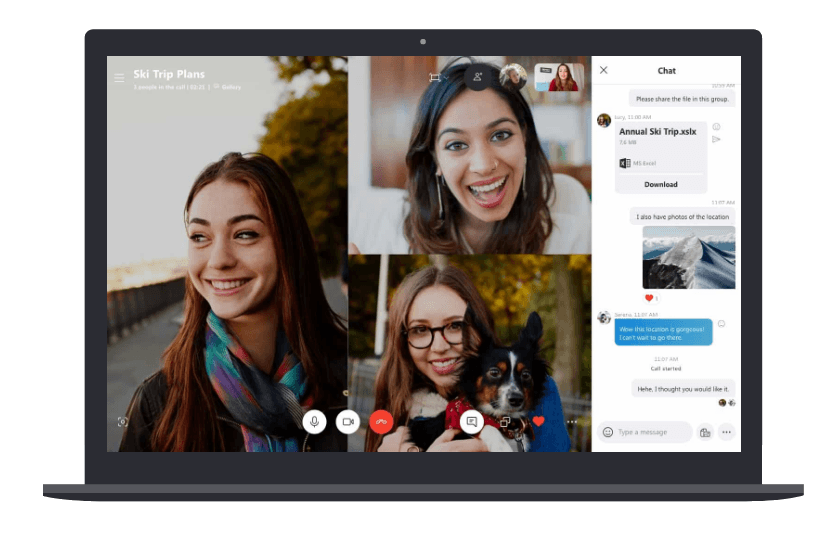 The free video conferencing solution from Zoom provides a pared-down service for group video calls. The Zoom Basic plan allows users to have 40-minute calls with a handful of features like screen sharing, local recording, breakout rooms and camera filters.
Advantages: Simple sign-up process, includes basic recording, supports 100-way calling
Considerations: Requires a downloadable application, all calls are unencrypted, calls limited to 40 minutes or less, no capability to control spam or bandwidth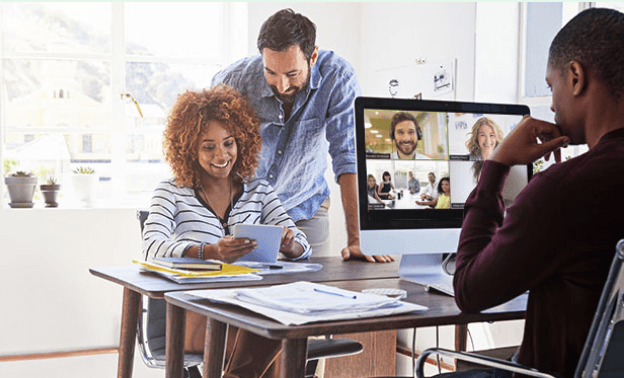 GoToMeeting is the standalone webconferencing service provided by LogMeIn. As expected it provides audio and video conferencing, as well as screensharing.
One of the features that sets GoToMeetings apart is its mobile friendliness – you can set up and start a conference from your smartphone, something some big brand software would struggle to do. There are also settings to maximise call and image quality, as well as one-tap invites to join meetings as well as chats.
Mobile apps are provided separately for Android and iOS, and both have high positive review volumes, which again makes a change from some other providers who struggle to balance quality and usability with mobile use.
In terms of pricing, almost all standard features are available with the most basic payment tier, which costs $14 per month, or $12 per month with an annual payment. Even the limit of 150 participants is generous, and for most businesses, this is all that will be required.
A Business plan tier is available for $19 per month (or $16 when paid annually) which increases the number of participants to 250 and includes a few admin features plus drawing tools and mouse sharing. An Enterprise plan is available to accommodate up to 3,000 participants.
However, while there are many good things to be said for GoToMeetings, if you're looking for a business VoIP solution then GoToConnect offers both cloud-based phone system which integrates GoToMeetings as part of the package, and it may be more cost-effective to sign up for that instead.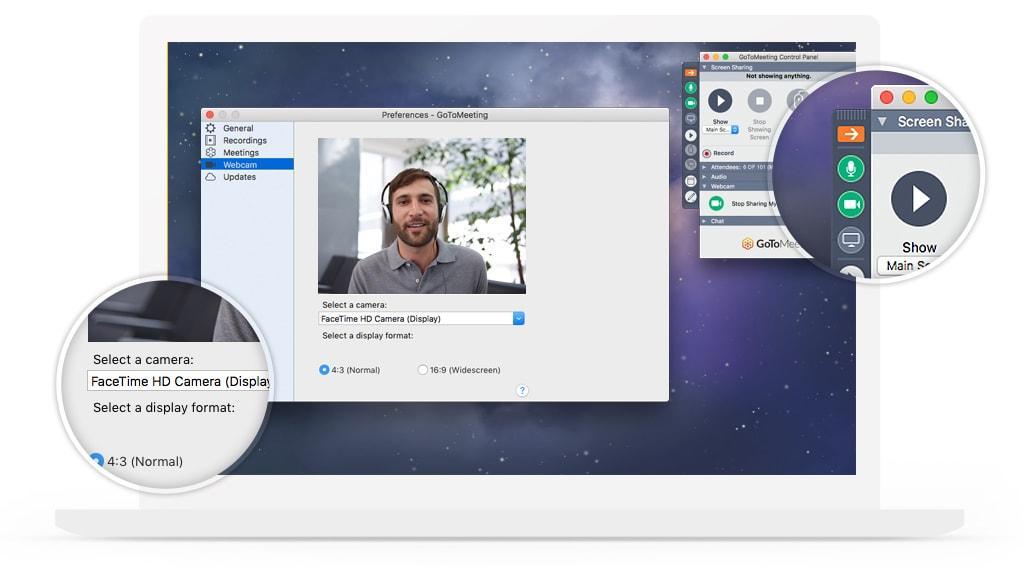 CyberLink is a Taiwanese multimedia software company. It was founded in 1996. U Meeting is the company's video conferencing solution.
CyberLink U Meeting has four pricing plans.
The 'Basic' plan is free. It includes up to 25 participants and 30 minutes per meeting.
'Pro 50' is $29.99 per host per month. It includes up to 50 participants, 24 hours per meeting, admin tools and PerfectCam.
'Pro 100' starts at $49.99 per user per month. This includes all 'Pro 50' has to offer plus up to 100 participants.
The 'Enterprise Features' plan includes all the other tiers offerings plus meeting analysis, premium customer support and end-to-end encryption. Users need to contact sales for a quote.
'PerfectCam' is a most random feature. Users can add computer generated makeup to their faces with the company promising to 'create a truly professional look'.
U Meeting is entirely web-based. This might put some users off but it can be an advantage as you will not need to download any additional software to use U Meeting. It also does not offer video recording or the ability to dial into meetings using VoIP systems.
BlueJeans was founded in 2009 and has its headquarters in California. The company provides inter-operable cloud-based video conferencing platform.
There are three pricing tiers. BlueJeans does not have a free tier but it does offer a 30-day free trial.  
The 'Me' tier costs $14.99 per month per user, when paid annually. Users can have up to 50 attendees, connect from any computer, iOS or Android device and all meetings include dial-in numbers.
The 'My Team' plan is $19.99  per month per host (when paid annually) and includes all the lower tier had to offer plus 10 hours of cloud meeting recordings, command center dashboard and up to 75 participants.  
The 'My Company' packages includes all the features of the other plans along with connection H.323//SIP room systems, room system calendar support and up to 150 participants. Users need to contact BlueJeans directly in order to get a quote.  
Users do not have to sign up to an annual subscription with BlueJeans. The basic tier supports free phone audio in over 40 countries. BlueJeans also supports Dolby voice. This might suit users who are more concerned about video quality rather than the number of features included with the platform.
BlueJeans seems to have less features than some of its nearest competitors however this is overlooked due to the quality of their system along with the fact users can utilize the 30-day free trial to see if it suits their needs.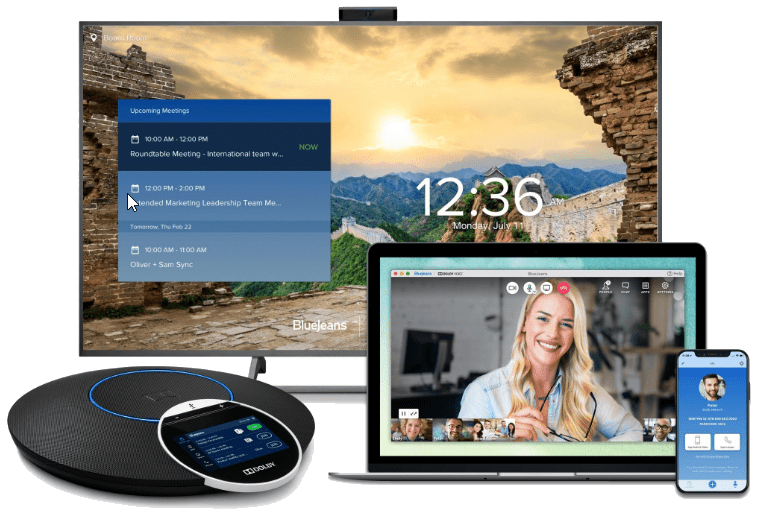 8. Meetaway 
Meetaway is a networking platform with powerful conferencing options. Thus, it is a viable tool for a wide array of virtual events, big or small.
Unlike other conferencing apps, Meetaway is a tool for 1:1 speed networking and relationship building. It lets attendees choose who they meet by setting matching tags and request conversations with specific people who joined the event.
Conference organizers can use this app as a virtual lobby where guests can bump into each other, have an uninterrupted conversation, and look forward to seeing their next match. This video conferencing solution also removes the awkward moments of deciding who should speak first and when to end or leave the conversation.
Meetaway has a free plan and is perfect for virtual expo booths, hiring events, daily conferences, alumni career networking, and more!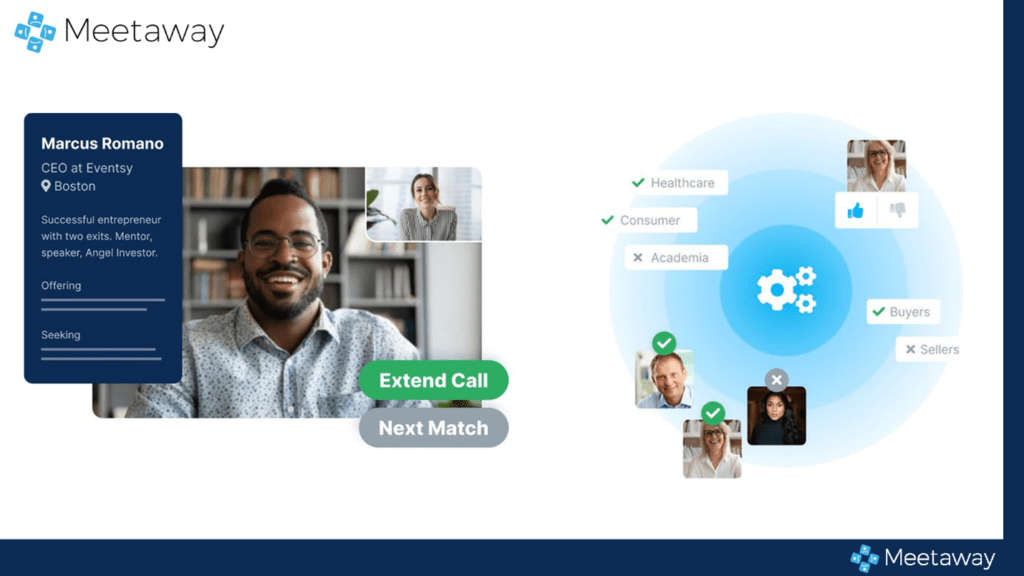 Lifesize has been in the video conferencing industry for nearly two decades and has continuously pushed the bar for quality and ease of use. By setting up a free account with Lifesize, you can quickly start a free video call with up to 25 participants requiring no downloads or installs. Just navigate to the signup.lifesize.com page, enter your name and email and select a password. Guests can join the live call right from their laptops or mobile browsers by clicking on your personal meeting ID link.
Advantages: No downloads or installs required, unlimited meeting duration, built-in screen sharing, HD-quality video, enterprise-grade reliability and security by default
Considerations: Additional features like 300-way calling, Microsoft integrations and 4K video conference room systems require a paid subscription. Checkout more tips from 4guysfromrolla here.