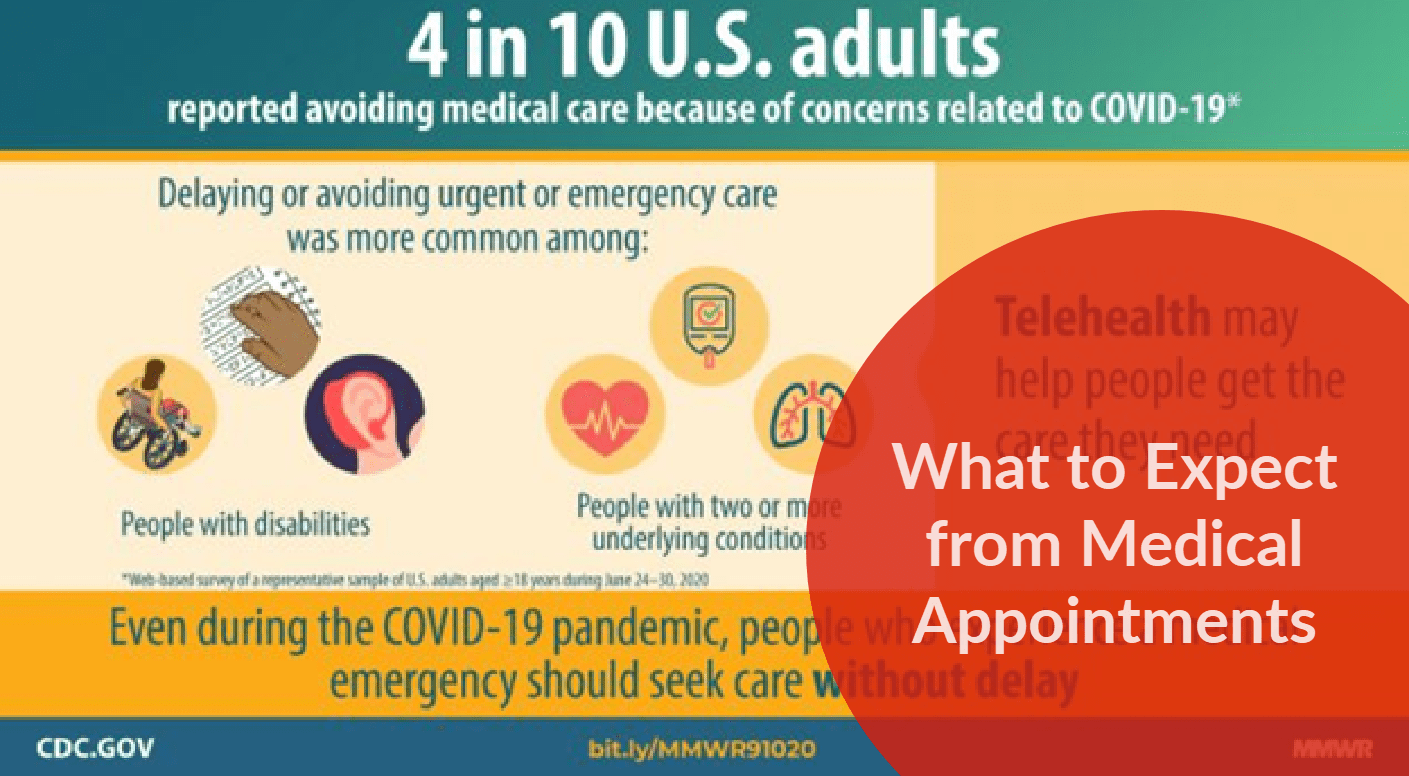 What to Expect from Medical Appointments During a Pandemic
COVID-19 has changed almost everything about our way of life in the countries it has affected. Huge numbers of employees have switched to
working from home, and the provision of services has switched to remote delivery – with varying levels of success.
It's remarkable how much has been ported to digital or remote platforms, and it's also quite telling that certain things have remained in person only.
As the advantages of working from home have come to the forefront in the last year, the development of remote delivery has kicked off in a big way. Many services have made the switch to VoIP or other remote systems for delivery. It's also shown us the challenges of attempting to deliver most everything in this new and novel way.
This is true for one area that we wish we didn't have to think about – the online doctor's appointment. In this article, we're going to discuss doctors' visits during the Covid-19 pandemic, their in-person and online forms, and what we can expect from these.
In the end, you might find that choosing which to use is as easy as finding solutions like Dialpad and much easier than choosing what film to watch on a night in.
You may have to use proprietary telemedicine software from your health provider or something similar to an online booking system where you select a time slot.
But before we continue, take a moment to ask yourself these questions:
Would you like to have a medical checkup remotely, if you haven't already? Why or why not? What challenges do you anticipate? What benefits are there?
If you have had one, what do you think was positive about it? What was negative? Would you repeat the process?
Many readers will be familiar with video conferencing from work, but many will not, so we'll also attempt to give some idea of what video-based checkups look like.
The in-person checkup
Probably the biggest question mark about in-person checkups during COVID is whether they have to take place at all. That's ultimately a question for you and your doctor, and not for me to answer, but it's one that requires intelligent deliberation.
Let's take a look at some of the factors at play and what we might expect from the process.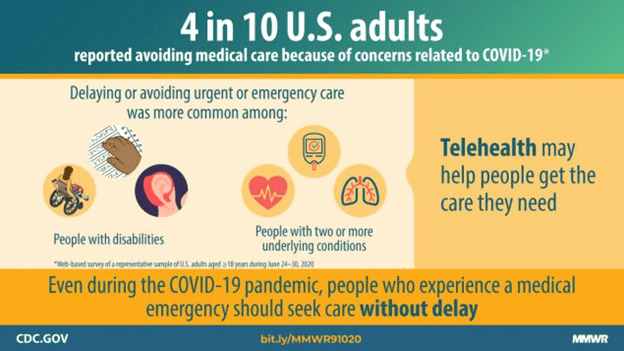 (Source: CDC)
A lot of Americans have avoided checkups – but that's not necessarily the best option. It's ultimately a balancing act between the potential risk of exposure and the necessity of having a checkup.
This balancing act swings towards the in-person checkup when the checks must be performed by a doctor using specialist equipment or require a hands-on examination.
Examples include:
Anything to do with the heart, irregular heartbeats, heart disease or heart congestion, or the blood and blood pressure.
Anything orthopedic; especially anything that requires a doctor to observe a patient's movement.
Anything neurological; anything to do with the senses and neurology that requires a doctor to observe a patient.
Unnatural enlargement of any part of the body that could indicate cancer, which a doctor would usually have to feel.
Any person who is at risk of these kinds of diseases or has underlying causes which could accelerate them should attend an in-person medical checkup if they suspect a problem. While a virtual meeting might be useful to discuss the problem first, an actual diagnosis probably requires a doctor to see you in-person.
With respect to children, especially young children, appointments should continue as normal because it is much easier for doctors to detect problems in person and because when problems are found, it's much easier to fix them if they're discovered early.
Since children are still developing, many developmental issues can arise that need a doctor present to be diagnosed. Pediatricians often need to see children in person, and things like vaccines obviously can't be delivered remotely. This means children are natural candidates for an in-person checkup.
So what about when you actually get to the doctor's clinic or the hospital? There are, of course, a whole host of precautions in place, some of which you may be familiar with from things like the supermarket and some which will be a bit different.
The first thing is that, depending on where you live, you may have to take a COVID-19 test before you go to a hospital or clinic, so be prepared for that.
Upon arrival at the hospital or clinic, there will almost certainly be a separate exit and entrance. This should be signposted, so just look for the arrows or directions. You will have to wear a mask unless exempt.
A hospital or clinic is a confined area, so pay attention to signs that help you socially distance by marking distances on the ground or walls. To keep up work productivity when so much more attention has to be paid to cleaning, redundant parts of a checkup may be streamlined or eliminated altogether.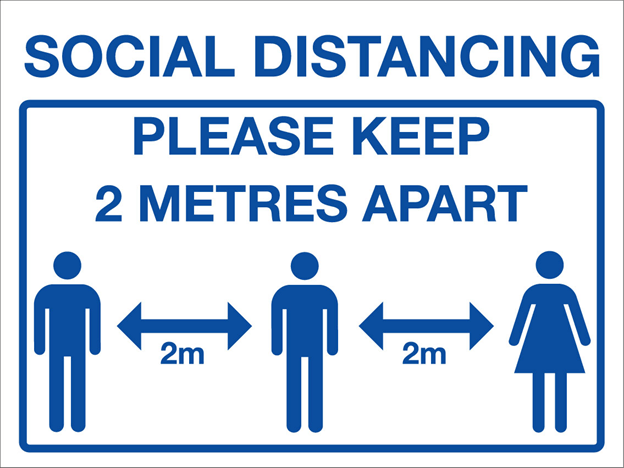 (Expect a lot of signs like this. Source: Stocksigns)
Every medical center will have its own rules, regulations, and methods for making sure that you, staff, and other patients are safe. For you specifically, this is a matter of following instructions, using your common sense, and having confidence that the people tasked with keeping you healthy are professionals who are doing their job correctly and efficiently.
The remote checkup
If none of the above conditions apply to you, you can probably have your checkup remotely. For the vast majority of people, this is a brand new experience with challenges of its own, some of which can be ameliorated and some of which can not.
A remotely delivered medical checkup is more than a simple phone call. Ask yourself the question 'what are the advantages and disadvantages of using VoIP compared to traditional phones?' and you get a good expectation of what a medical checkup might be like. The internet can send all kinds of data, so doctors might ask for pictures or recordings, and they may need to see a video feed from you too during the checkup.
Of course, one of the disadvantages of a remote checkup is similar to the general disadvantages of VoIP – you need a good internet connection. Lags and stutters won't be helpful if your doctor is trying to diagnose a problem. If your internet is slow or unreliable, think about using 4G instead.
Another possibility is that your doctor's internet might not be any good if you live in a rural area, for example, but there's nothing you can do about that other than be patient and prepare for any problems with connectivity by moderating your expectations.
You may have to use proprietary software from your health provider or something similar to an online booking system where you select a time slot. This is not dissimilar to any other kind of booking or scheduling app.
When you do get a diagnosis, your doctor may send your prescription to a drug store or another location or have it delivered to your house if you're isolating.
Don't be afraid to ask questions about the next step, inquire about in-person checkups, or use whatever system you are using to book a second appointment if necessary.
Everything should go smoothly, but if it doesn't – which is a possibility, since lots of people are unused to this method of checkup – don't be afraid to try again.
While the practice of medical checkups online is in its infancy, the technology is not, but that doesn't mean that teething problems won't rear their ugly heads. However, if you're familiar with video conferencing apps already, it shouldn't be a problem.
Your choice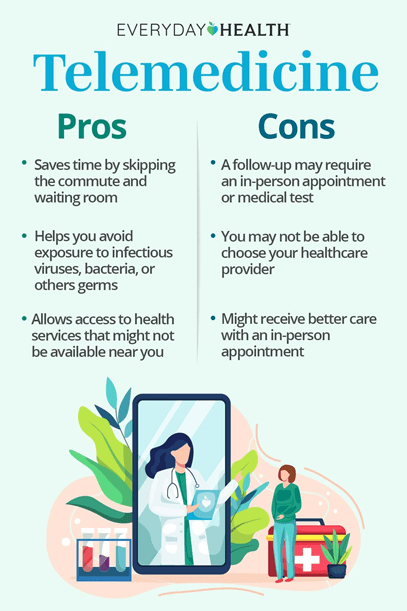 (It's a balancing act. Source: Inc)
In many cases, the choice will be yours, and the expectations you have of a medical checkup will reflect that. Look back to the questions we asked at the beginning of the article, and having answered them, think about your expectations.
This time is trying for everybody, but most of all for medical professionals. Protection from coronavirus is a priority for everyone. We should trust that the measures they take and the procedures we use, although perhaps alien to us now, are in our best interests. Certainly, this situation won't last forever.
That being said, remote delivery of medical checkups might continue well into the future. Rather than having to drive to a hospital or clinic, wait, and then drive home, you can have a medical checkup in ten minutes from your living room. You can spend the time you save to learn how to send a fax without a fax machine, practice a hobby, do work, or spend time with your family.
This expectation of actually saving time is a legitimate one, and perhaps the prime reason that we'll still be seeing remote delivery long after COVID-19 has become a distant and distasteful memory.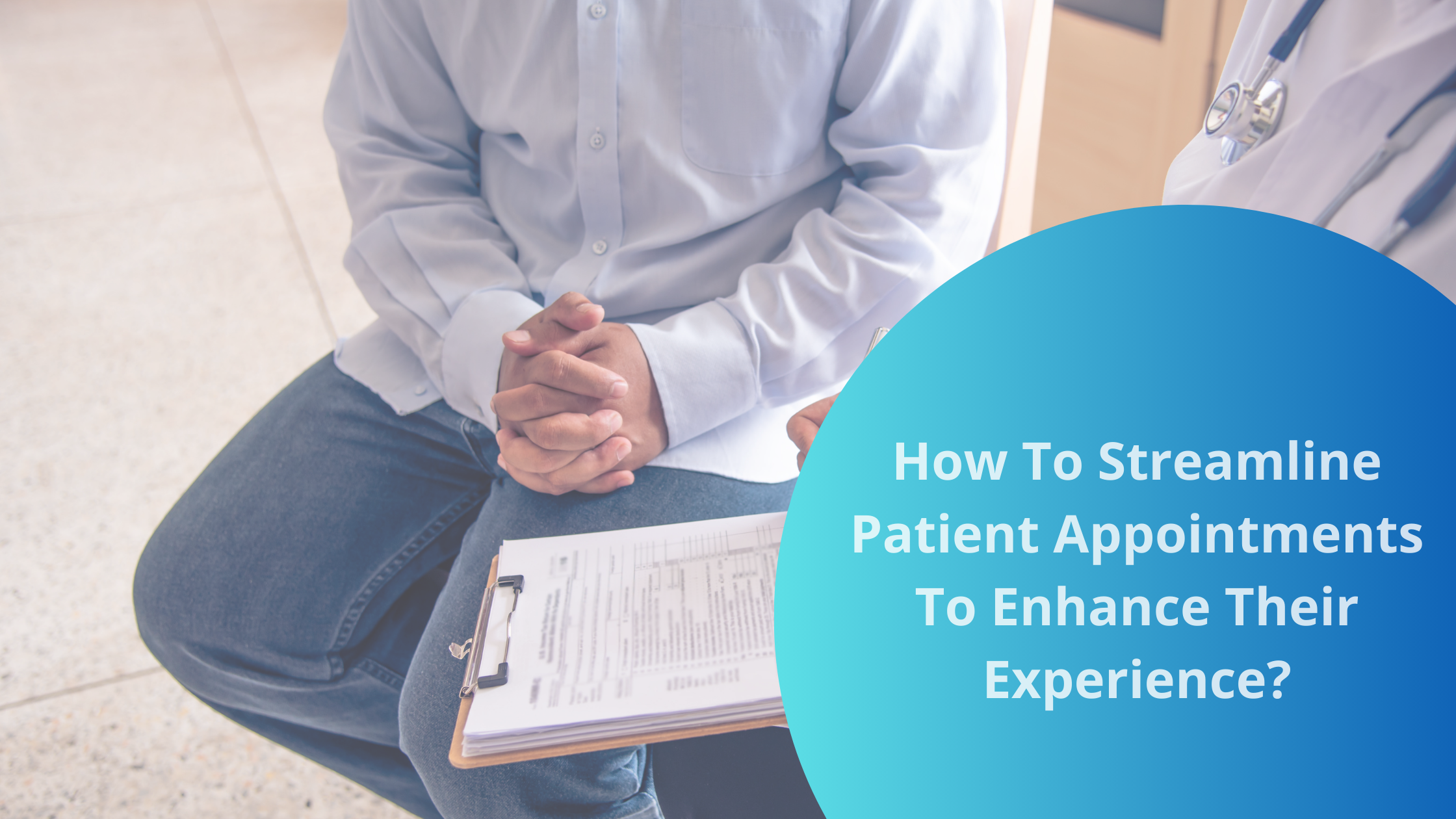 Got a brilliant SaaS product idea? You're already on the path to creating a potentially ground-breaking solution! But what's next? In this blog post, we'll guide you through the essential steps of transforming your SaaS product idea into a reality. So, fasten your seat belts as we navigate the exciting journey of SaaS product development together!
Read More »
Start booking appointments
with Bookafy for free!
Sign up today for a free Trial of Bookafy Pro!